Quiz: North Korean Slogan or TED Talk?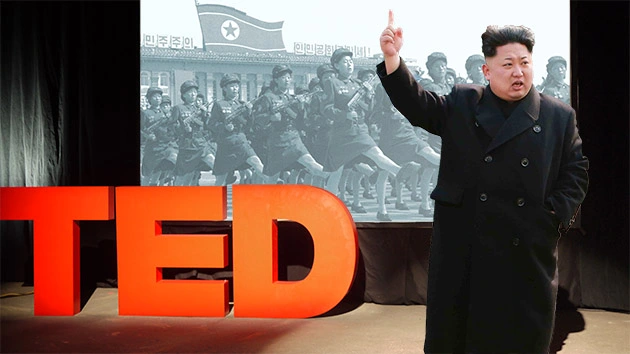 North Korea recently released a list of 310 slogans,First published in February 2015. trying to rouse patriotic fervor for everything from obeying bureaucracy ("Carry out the tasks given by the Party within the time it has set!") to fungi cultivation ("Let us turn ours into a country of mushrooms!") and aggressive athleticism ("Play sports games in an offensive way, the way the anti-Japanese guerrillas did!"). The slogans also urge North Koreans to embrace science and technology and adopt a spirit of can-do optimism—messages that might not be too out of place in a TED talk.
Can you tell which of the following exhortations are propaganda from Pyongyang and which are sound bites from TED speakers? (Exclamation points have been added to all quotes to match North Korean house style.)
Hover over the boxes to see the answers.
"Go beyond the cutting edge!"

"We are here for knowledge. Our enemy is thoughtlessness!"

"Do everything in an innovative and scientific way!"

"Democracy is a thing of value for which we should be fighting!"

"Music really is our daily medicine!"

"Plant a large number of flowering and cover plants so that no land is left bare!"

"Your child will live a life 10 years younger than you because of the landscape of food that we've built around them!"

"Develop and make effective use of wind, tidal, geothermal, and solar energy!"

"The more books we read, the earlier the country prospers; the less books we read, the later the country prospers."

"Acquiring preemptive knowledge about emerging technologies is the best way to ensure that we have a say in the making of our future!"

"Let us build a fairyland for the people by dint of science!"

"The way to a more productive, more inspired, more joyful life is: getting enough sleep!"

"Let us live not merely for today but for tomorrow!"

"Capitalism, at its most remorseless, is a physical manifestation of psychopathy!"

1: Damon Horowitz
2: Rory Stewart
3: Evelyn Glennie
4: Jamie Oliver
5: Catarina Mota
6: Arianna Huffington
7: Jon Ronson